Real Techniques by Samantha Chapman is a line of makeup brushes designed by one half of YouTube's beloved Pixiwoo Sisters. I'm a long time subscriber to their channel and had been wanting to try Sam's brushes since they launched, but I always put off buying them for one reason or another. This stippling brush is the rush I wanted the most because I've never owned one before. I finally bought my Real Techniques Stippling Brush at Ulta for just $5.75, almost half off. If you weren't aware, Real Techniques is a sub brand of EcoTools, another favorite brush line. All Real Techniques brushes have hand cut, cruelty free taklon bristles and light, extended aluminum handles. Samantha Chapman says that her "dual fiber brush is the trade secret for creating airbrushed, high definition results with all types of makeup." This brush is also claimed to give you a "pixel perfect look even in harsh light." Real Techniques brushes are cruelty free and made in China. These brushes can be a little hard to track down, so let me steer you in the right direction. These brushes can be bought on the brand's website, at Ulta and Fred Myers in America, Target and Priceline in Australia, Shoppers Drug Mart in Canada, and Boots in the UK.
Real Techniques brushes are packaged pretty nicely. Each brush comes in a plastic case with the name of the brush on the front. On the back of the case you can find information on the brush, the brand, and Samantha Chapman herself. Real Techniques brushes are separated and color coordinated into three categories. The Stippling Brush falls into the "finishing" category, so it has a pink aluminum handle. The bottom of the handle features a black, rubbery piece with a flat bottom so that it can be easily stored standing upright. The brush handle, which is very lightweight and comfortable in the hand, features the name of the brush on one side, and the Real Techniques logo on the other. Some Real Techniques brushes have no noticeable ferrules to them, which gives them an interesting look. Despite the lack of a defined ferrule, the brush seems to have a firm grasp on the bristles.
Like most stippling brushes, Real Techniques Stippling Brush has duo-fiber, black and white bristles. The black bristles are significantly shorter and more densely packed than their white counterparts. The white bristles are evenly distributed throughout the black ones and are ever so slightly longer in the center of the brush head. When you run the brush through your fingers, it feels quite soft, but when used on the face I find the bristles kinda jagged and uncomfortable, especially when used in the eye area. I really love the Real Techniques Stippling Brush. I have tried several foundation application but really I never got the result I get from any other foundation brushes like the stippling brush, I t just gives the effect of an airbrushed foundation without the cA$h and the effort you get from buying the airbrush set. Whether I stipple, swirl, swipe, or use any combination of method, my foundation always looks PERFECT.
One more tip, I started using it as brush for cream blush and it works perfectly.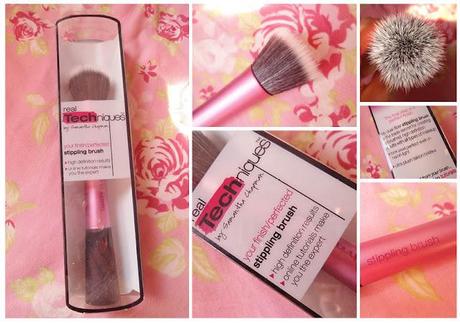 Conclusion: Real Techniques stippling brush is good quality and well put together. I have never lost a bristle from this brush. It washes well, almost all the product comes out, & for the most part the white bristles returns to their original white state which I never got from any other brush..YAYY. This brush dries fast for being so dense.
Real Techniques Stippling Brush is pretty good quality, it's the brush for me. Although I need more practice, but I just loooveeee the effect this brush has on my foundation's overall appearance. It gives the appearnce of an airbrushed makeup.